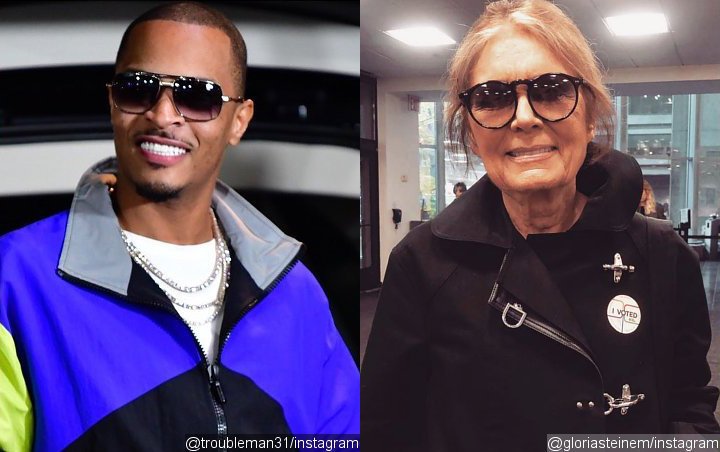 Weighing in on the controversy the 'Live Your Life' rapper sparked, the feminist icon and activist points out that 'there's a power relationship that's very suspicious there.'
AceShowbiz –
Feminist icon Gloria Steinem has insisted rapper T.I. is breaking the law by having his daughter's hymen checked annually to make sure she is still a virgin.
The rap star stunned listeners of the Ladies Like Us podcast last week (ends November 08), when he revealed he books his daughter an appointment with a gynaecologist on her birthday every year to make sure the 18-year-old college student is still pure.
His comments went viral and led to the podcast hosts, Nazanin Mandi and Nadia Moham, apologising for their reactions in the moment and then removing the audio.
Several female celebrities have reprimanded the rapper, and now Steinem has told TMZ that she thinks his actions are a human rights violation.
"It is not his hymen, it is not his body," she told the outlet. "He doesn't have any right to do that… You can't invade a child's body for anything other than a medical emergency or a medical reason."
And author and activist Steinem is suspicious of how T.I. gets the information about his daughter's hymen from her doctor after he revealed she signs a release form allowing the medic to speak to her dad.
"There's a power relationship that's very suspicious there," she added. "I don't think it sounds like free will… and the courts should be after him."
Next article


'Happy' Lela Rochon Makes First Smiley Appearance With Antoine Fuqua After Kissing Scandal