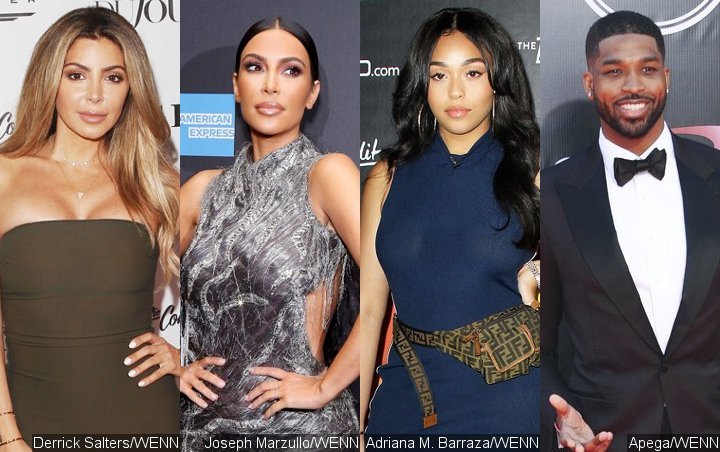 The estranged wife of NBA vet Scottie Pippen says Kim Kardashian didn't believe her when she told her that she sensed something suspicious between Kylie Jenner's former BFF and Khloe's then-boyfriend.
AceShowbiz –
Larsa Pippen a.k.a. Larsa Younan claims she had sensed something was up between Jordyn Woods and Tristan Thompson before news of their scandal broke. During a chat on "Hollywood Unlocked" podcast, "The Real Housewives of Miami" star reveals she noticed "situations" between the 21-year-old model and the 28-year-old basketball player that made people feel "uncomfortable" before their alleged hookup was made public.
The estranged wife of former NBA star Scottie Pippen says that she called Khloe Kardashian's sisters and tried to warn them about Jordyn and Tristan's weird interaction, but Kim Kardashian didn't believe her. "I called Kim. She didn't believe me – she was like, 'No way. There's no way,' " Larsa recalled.
Kourtney Kardashian, however, had a different reaction to Larsa's warning, according to the Bravo reality TV star. "Then we called Kourtney and Kourtney was like, 'Yeah, I believe it,' " she shared. "Because there were other situations where [Jordyn and Tristan] were in the same room together and it was like, a weird feeling, and Kourtney was in that room."
As documented in the current season of "Keeping Up with the Kardashians", it was Larsa who reported to Kim about Jordyn and Tristan's alleged hookup. "Tristan and Jordyn were all over each other last night," she told Kim over the phone in one episode, while the Cleveland Cavaliers player was still dating Khloe.
After news of the alleged affair broke, Larsa subtly shaded Jordyn on social media, writing, "Can't wait to see which version of her story she tells. Hope it's the same she told @khloekardashian when she checked her."
Khloe dumped Tristan after his affair scandal with Jordyn was revealed, while the drama caused a strain on Jordyn's relationship with her longtime best friend and Khloe's half-sister Kylie Jenner.
Next article


Denise Richards Compares Husband's Manhood to Kyle Richards' Shoe: It's Bigger