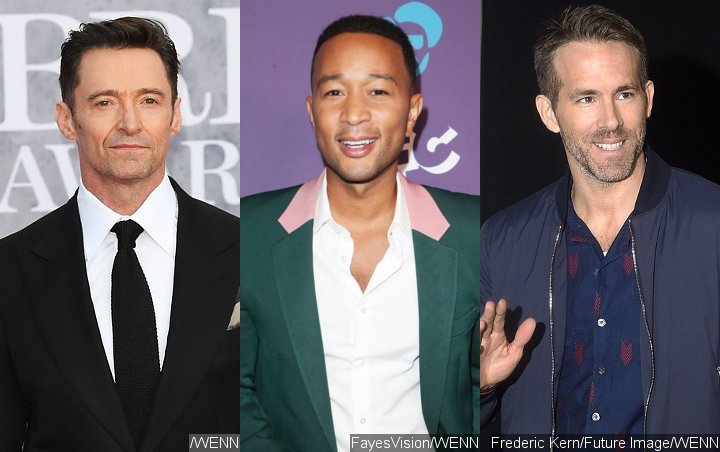 The star of 'The Greatest Showman' congratulates the 'All of Me' hitmaker by sharing a clip in which he 'accidentally' drops his Sexiest Man Alive cover while walking alongside his frenemy.
AceShowbiz –
People's former Sexiest Man Alive Hugh Jackman is heaping praise on the magazine's latest pick, while mocking his pal Ryan Reynolds.
Jackman took to Instagram on Wednesday, November 13, to congratulate John Legend on the coveted honour, which he was handed in 2008, eight years after Reynolds was named Sexiest Man Alive.
"Dear John. Massive congrats on joining this very very prestigious group," Jackman captioned a vintage video on the photo sharing site. "99 per cent of the time, PEOPLE Magazine get it right. Such as Blake Shelton, (The Rock a.k.a. Dwayne Johnson), etc… But a word of caution. There is the 1 per cent. Exhibit A. It's important that you fall in with the right crowd. Enjoy your reign. Love Hugh."
In the clip, Jackman "accidentally" drops his Sexiest Man Alive cover in front of the one featuring Reynolds, prompting the "Deadpool" star to say, "I have an issue somewhere, I have a few of yours. Usually I cut the eyes out or the mouth, but that's just me, that's how I roll."
Meanwhile, Legend picks up the title from British actor Idris Elba, who was crowned the Sexiest Man Alive last year.
Next article


Tiny Slammed Over Her Response to Question About T.I.'s Daughter Amid Hymen Controversy