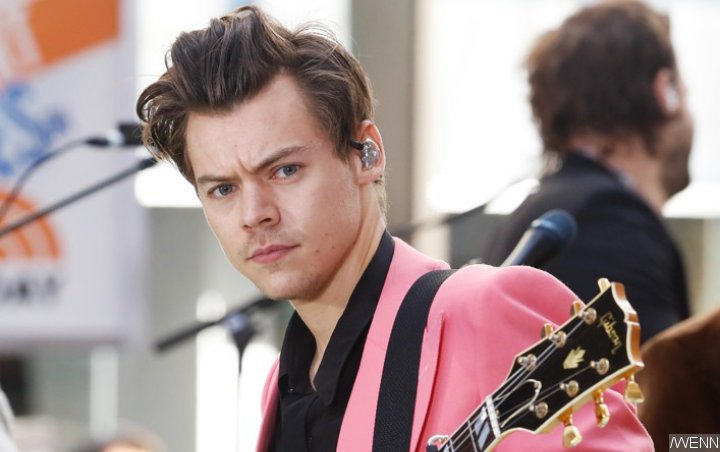 Fans assume that the One Direction member uses the single to confirm his long-rumored bisexuality as he released it and its bacchanalian music video on National Coming Out Day.
AceShowbiz –
Harry Styles has set Twitter abuzz with reignited talk about his sexuality after he released his new song "Lights Up". After he surprise-dropped the track on Friday, October 11, fans of the British singer/songwriter began speculating that he comes out as bisexual in the single.
People assume so based on the song's lyrics, which hint at embracing one's true self. "Lights up and they know who you are," Harry sings. Another part of the lyrics that gets fans convinced that he confirms his long-rumored bisexuality reads, "I'm not ever going back."
Moreover, the "Sign of the Times" hitmaker debuted "Lights Up" on October 11, which happens to be National Coming Out Day, and people believe it's not a mere coincidence. The song's accompanying music video additionally features the One Direction member dancing shirtless around men and women.
"ok but harry styles dropping a low key bisexual bop on national coming out day? Icon," one wrote on Twitter. Another speculated, "Harry released a video on national coming out day and he's dancing and grinding up against men and women all sweaty and the song is slow yet sexy. Harry Styles invented big d**k energy & that's final I don't wanna hear anything else !"
"harry styles releasing a song the day before national coming out day saying hes never going back and do you know who you are with males & females dancing around him literally bi anthem i am in tears," a third user commented. Someone else praised the 25-year-old star, "harry styles legend of f**king everything puts out to the world a musical masterpiece that has the lyrics ' step into the light' ON NATIONAL COMING OUT DAY MY KING #LightsUp."
Another admitted to getting emotional after watching Harry's new music video, "HARRY STYLES JUST CAME OUT AS BI ON NATIONAL COMING OUT DAY AND MY DIRECTIONER ASS IS SOBBING IM SO PROUD OF HIM OH MY FUCKING GOD #LightsUp." One other gushed, "okay so ,, if u listen to the song and watch the video it's kinda about coming to terms w yourself and stepping forward instead of hiding away forever. king. literally a king. god tier. bisexual prince. i love no one else. #LightsUpOutNow."
Harry has never confirmed nor denied he's bisexual, but he once said that he didn't feel the need to define or put a label on his preference. "No, I've never felt the need to really," he told The Sun about rumors of his sexuality in 2017. "No…I don't feel like it's something I've ever felt like I have to explain about myself."