Crossing Guard Left 'Speechless' On His 80th Birthday
October 11, 2019

When crossing guard Alec Childress showed up to his corner on Thursday morning, he was left speechless.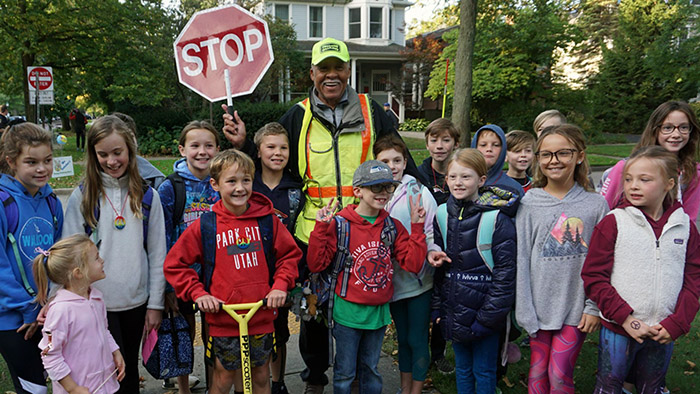 Credit: Res Publica Group

Childress turned 80 on Thursday.

More than 100 kids, parents, family and church members were present at the intersection where he's served as a crossing guard in Wilmette, Illinois.

They brought dozens of yard signs that read "Happy Birthday, Alec!", balloons, and a big tent full of food.

He was even presented with an honorary street sign which read, "Alec's Corner."


Credit: Res Publica Group

"It's a joy that words cannot explain," Childress told GMA after the celebration. "It's unbelievable the love that had been poured out for me. I'm just so grateful."

Childress has served as a crossing guard in Wilmette for 14 years. He said his greatest happiness has been greeting the students of Central School and St. Francis School.

"My job is to make sure they get across safe and that they are shown love because you never know what kind of home they come from," he said.

Parents Kay McBrearty and Krista Gallagher co-organized the big surprise.

"Everybody starts their day out with a smile because of Alec," McBrearty told Fox News. "We wanted to surprise him from the community for bringing love, joy, and peace to this corner, Lake and 9th street, in Wilmette."

Residents also pitched in so Childress and his wife could go to dinner and the show "Hamilton" for his birthday.

"Receiving love that I never dreamed I would receive," Childress concluded. "It shows you what can happen if you go through life loving instead of hating people. I'm just grateful. Spread the love wherever you go."
Please consider making a donation to Sunny Skyz and help our mission to make the world a better place.