Boy Makes Bow Ties For Dogs To Help Them Get Adopted
September 9, 2019

Meet Darius Brown, the 12-year-old boy who designs bow ties to help shelter pets get adopted.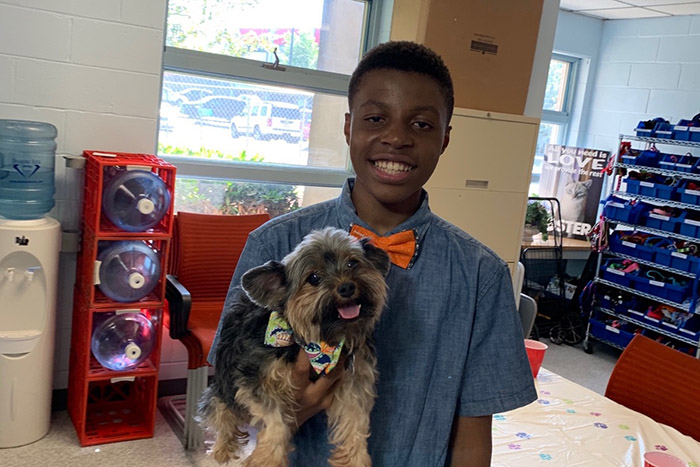 Brown, from Newark, New Jersey, believes the bow ties help the animals gain more attention from potential families.

"It helps the dog look noticeable, very attractive" he told TODAY. "It helps them find a forever, loving home."



Darius' passion for bow ties started at a very early age.

At age 2, he was diagnosed with speech delay, comprehension delay and fine motor skills delay. His mother and sister felt the need to encourage a sense of creativity in the toddler to help his development.

Darius had a major breakthrough when his sister started making hair ribbons for little girls.

"My mother and I came up with the idea that if he helped us with things like prepping the ribbon or cutting it, and sewing fabric together, it would help him. And it did — it worked!" his sister said.



Eventually, Darius started making bow ties and wearing them every day. People started asking him where they could buy one, so he launched Beaux & Paws to make custom bow ties for people and their pets.

As his love for animals grew, he began donating many bow ties to animal shelters. When people purchase ties from Beaux & Paws, it helps him purchase materials for bow ties he will donate.

He also donates a portion of every sale to the ASPCA.

Darius has won numerous awards for his efforts to help homeless pets and even received a personal letter from Barack Obama.

To make a donation, visit GoFundMe.
Please consider making a donation to Sunny Skyz and help our mission to make the world a better place.