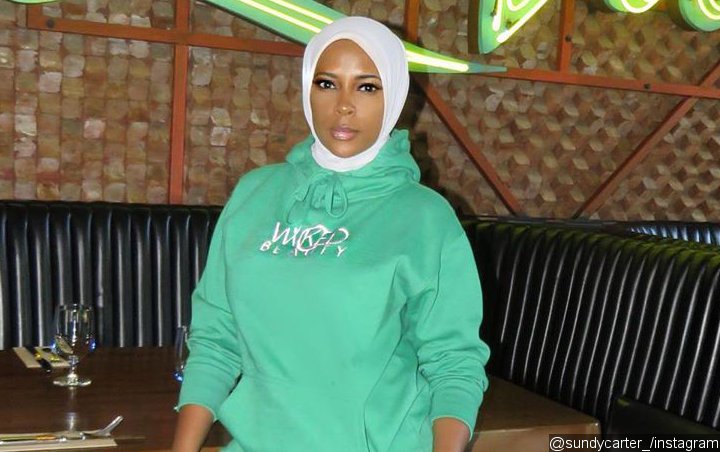 The VH1 reality TV star, who covered up since a few months ago as she embraced fundamental Islam, confuses her fans when she is back to her sexy outfit.
AceShowbiz –
"Basketball Wives LA" star Sundy Carter appears to be missing her old clothes. The reality TV star, who started covering up and wearing hijab a few months ago as she embraced fundamental Islam, surprised her fans when she's back to her sexy outfit.
Sundy, who has been posting photos of her in her Muslim attire, shared a new video on Tuesday, November 12 showing her rocking a see-through dress, revealing her teeny thong underneath it, as she's heading to her parked car. Not explaining her choice of outfit, she captioned the clip, "What y'all crying in…"
Some of her followers took to the comment section to express their disappointment at Sundy for ditching the head scarf and her modest clothes. Someone called her move "pitiful," while another already knew "it wouldn't last."
A shocked fan wrote, "Wow. You go go from hijab to ass out just like that? That's a whole new level. You don't get to just turn it off and on like that sis." Another questioned her decision, "What happened to covering up like a MUSLIM?"
Someone else said she unfollowed Sundy after she's back to her revealing outfits. "im not minding anybody's business but i used to follow her when she wasnt with the hijab then she put it on, i told myself woooow she got some balls to do it knowing she got a beautiful body and all that but now thats too much. Like WTF IS U DOING ? IS U PLAYING WITH ISLAM OR WHAT !??" the said user asked.
Another slammed her quickly changed tune about wearing hijab, "I try and stay in my own lane but this is almost offensive. It proves you make a fool of yourself every time when you choose your movements based off of a man."
Next article


'RHONJ' Star Danielle Staub Gets Her 'Cold' Breast Implants Removed