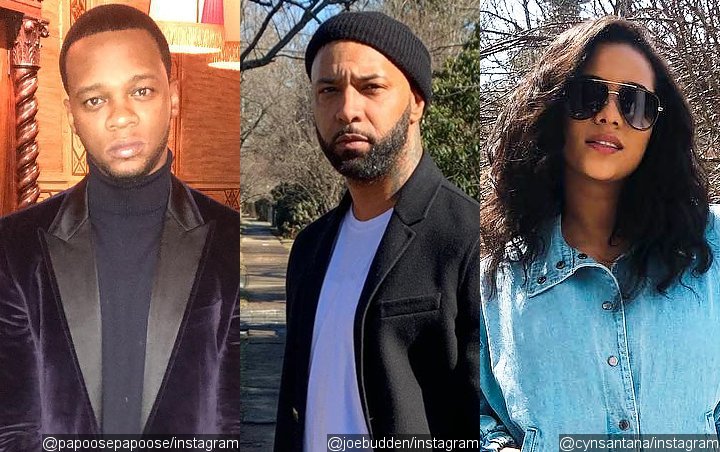 In related news, Cyn seemingly blasts Joe in a cryptic tweet that reads, 'A man that don't take care of his family can't be rich,' though fans are a little bit divided in the replies.
AceShowbiz –
"Love & Hip Hop: New York" star Papoose just wanted to chill in his latest Instagram post until co-star Joe Budden ruined the moment with his comment. Joe seemingly thought he would have the last laugh, though Papoose didn't let it happen.
It started after Papoose shared a photo of himself posing in a fedora. "Chilling like a villain spider man on the ceiling," the 41-year-old wrote in the caption.
Joe was among those who responded to the snap. "Don't try to get in your fedora bag now n***a," the 38-year-old wrote in the comment section. To which, Papoose replied, "Lol…I been doing these fool! Actually wore one to my wedding in 2015. Speaking of weddings," adding a thinking face emoji.
It was clear that the husband of fellow rapper Remy Ma was referencing to Joe's split from ex-fiancee Cyn Santana. The former lovers called off their wedding after the breakup, making Papoose's words sting to Joe.
The whole online interaction was captured by The Shade Room, which wrote in its caption, "Oop!! #Papoose came with his petty boots laced up tuh-day." The Slaughterhouse rapper-turned-podcaster appeared to notice the post as he said, "It's above me now." It's a famous phrase after a man posted a viral video of a racist encounter with a woman.
In related news, Cyn seemingly blasted Joe in a cryptic tweet on June 9. "A man that don't take care of his family can't be rich," she wrote on the micro-blogging site. "Say his name or it doesn't count," a fan urged her to spill more. Seemingly believing that the tweet was for Joe, another fan wrote, "Yall just broke up so it's obvious he never took care of his family."
Fans assumed this was Cyn subtweeting Joe Budden.

Meanwhile, another user didn't think it was for Joe. "Can't be talking about Joe. Y'all ain't been broken up long enough for him to miss a damn child support payment. So that makes this sub super corny," the person tweeted.

Nor Cyn and Joe has yet to directly address the split rumors, though they shared subtle tweets which seemingly were the responses to the news. "When you can really enjoy a meal during your break up diet >>>" wrote Joe in a since-deleted tweet.

As for Cyn, she replied, "Actions speak louder than words," to a fan asking her, "Can you break up without saying it?" She added, "People have months broken up and don't even know it. But God reveals all truths."

<!-comments-button-->