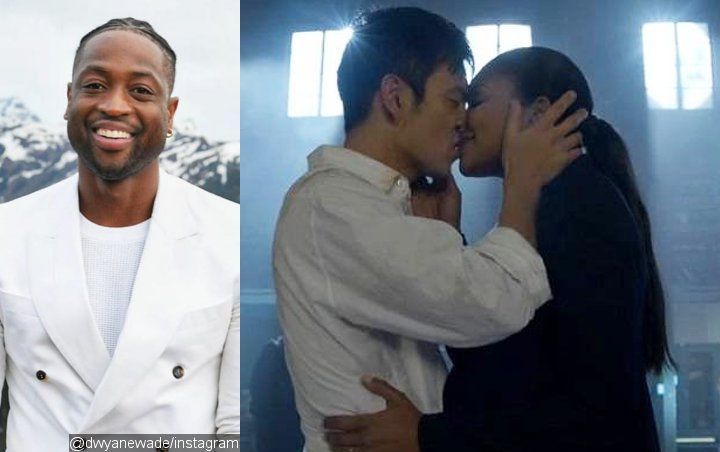 In addition to re-posting on Twitter a GIF of her love scenes with the Korean-American actor on 'FlashForward', the 'Bring It On' actress jokingly calls him 'big head.'
AceShowbiz –
Being married to an actress has its disadvantages, and in Dwyane Wade's case, it is having to see his wife Gabrielle Union kissing her male co-stars. Even though the retired basketball player should have gotten used to that by now, it doesn't stop him from playfully dissing the "Bring It On" star for sharing a clip of her love scenes on Twitter.
It all started after Gabrielle re-posted a GIF of her and John Cho locking lips on "FlashForward". She mentioned Korean-American actor and added, "Chooooo!!!!! what's up big head." That post, unfortunately, was the first thing that Dwyane saw when he logged in on Twitter, leading him to let his wife know that he didn't appreciate what he saw.
"Not what I wanted to come on twitter and see," he playfully responded.
Even though Dwayne was most likely joking when he posted the tweet, a lot of his followers believed that he was being serious. This made some others step up and tell them, "while yall over here stressing in the comments about how Gabrielle Union shouldnt have tweeted this, he probably was laughing when he read her tweet & they probably laughing together rn." Another asked, "Why is the comment section taking his so serious."
"He's playing y'all. Relax. Read it as if it was John Legend & Chrissy. See? Funny," one other said, referring to John and Chrissy Teigen's playful back and forth on social media. Someone else wrote, "I'm sure he is joking. He's funny."
Dwyane and Gabrielle, who first met while co-hosting a sponsored Super Bowl party in 2007, got married in August 2014 in an extravagant Miami ceremony. The couple welcomed their first child together, a daughter named Kaavia James, via surrogate on November 7, 2018 after suffering "eight or nine miscarriages."
Next article


Kristen Wiig and Avi Rothman Reportedly Have Been Engaged for Several Months
<!-comments-button-->